First time ordering with us?
Online service Soroka-Vorovka is a reliable and simple online resource that helps you to make purchases in the online stores in the United States from outside the USA. Our system is available 24/7: you can automatically calculate the cost of your order and shipping cost (24 hours a day) or to entrust it to us (during our office hours 07:00-19:00 NY time, the clock is on main page).
How the process of buying goods in the USA works:
order => calculation => invoice N1 => purchase => delivery to our warehouse in the USA =>
international shipping calculation => invoice N2 => shipping to your country
The payment is always done in two stages - before we purchase your items, and before international delivery
Ordering process
You add items to your shopping cart on the Soroka-Vorovka website:



Order price calculation and Invoice N1
The system automatically calculates the price of your order and compiles an invoice N1, which is a sum of the price of your items plus Soroka-Vorovka commission. If you need to make a purchase urgently (for example, an auction, a sale or a discount coupon is expiring), then you can refill your balance on our website right away by using any payment method that is convenient to you – they are all described in detail here.
If you don't need an urgent purchase –then you should wait for your order to be checked by us (your order status will change from Processing => Unpaid) and only then refill your balance. We will recalculate your order price anyway, and will take into account the following:
Shipping charges with the USA (if you forgot about it or did not notice)
Applicable coupon or discount (if they are still effective)
A sales tax on your purchases (except for footwear and apparel)
After you refill your balance, the order status in your account will change from Unpaid => Paid.
Purchasing of your items
Based on your order we will purchase your goods within 1 hour after you refill your balance (during working hours of 07:00-19:00 NY time, the clock is on top). Your order status will change from Paid => Ordered.
USA shipping to our warehouses
Delivery of goods within the United States to our warehouses in New York or New Jersey is done by the seller. The delivery times and conditions within the USA are always listed in each online store or on the seller page at an auction website. Your order status will change from Ordered => U.S. Delivery => At our warehouse.
International shipping calculation and Invoice N2
You can calculate international shipping charges yourself using our calculator – you just need to enter the weight and the shipping – and you will get almost the exact cost. "Almost" - because when shipping internationally the rate is calculated based on the weight and / or size of the package to the nearest inch and pound. And the exact weight and package dimensions will only be known by us after we receive your items in our warehouse and pack them into one package. Then, we will send you an Invoice N2. Your order status will change from At our warehouse => Ready for shipping.
Shipping to your country
Once you pay the Invoice N2, we ship your package. We have automated warehouse logistics, so nothing ever gets lost – don't worry. Next we take care of transportation documents, customs declarations, and an international carrier receives your package for shipping. Your order status will change from Ready for shipping => Shipped. You will get a tracking number so you can track your package. On our Soroka-Vorovka website we have a simple widget – you enter a tracking number in the search bar and can track your package at any time.

With Soroka-Vorovka buying and delivery resource you can do any of these:
purchase goods at local American prices;
purchase goods in any online store and any online auction in the USA;
save money on your purchases using bonuses and discount coupons that are available only in the USA;
save on shipping costs because we will pack all of your goods in one neat package;
choose the most convenient, fast OR cost-efficient shipping method
Thus, your cost of purchasing goods in the USA using Soroka-Vorovka buying and delivery service will amount to:
price of your goods + our commission + shipping cost
No other fees, no hidden fees or additional charges.
To start using our reliable and simple system Soroka-Vorovka, you need to register first. Then you will receive in your email provided during the registration, a confirmation letter. After that – you can use any of our services that are available in your user account.
| | |
| --- | --- |
| This is how the registration form looks like: | This is how you should fill it out: |
| | |
Congratulations! Now you are a registered user of the online service Soroka-Vorovka. This is how the system will welcome you: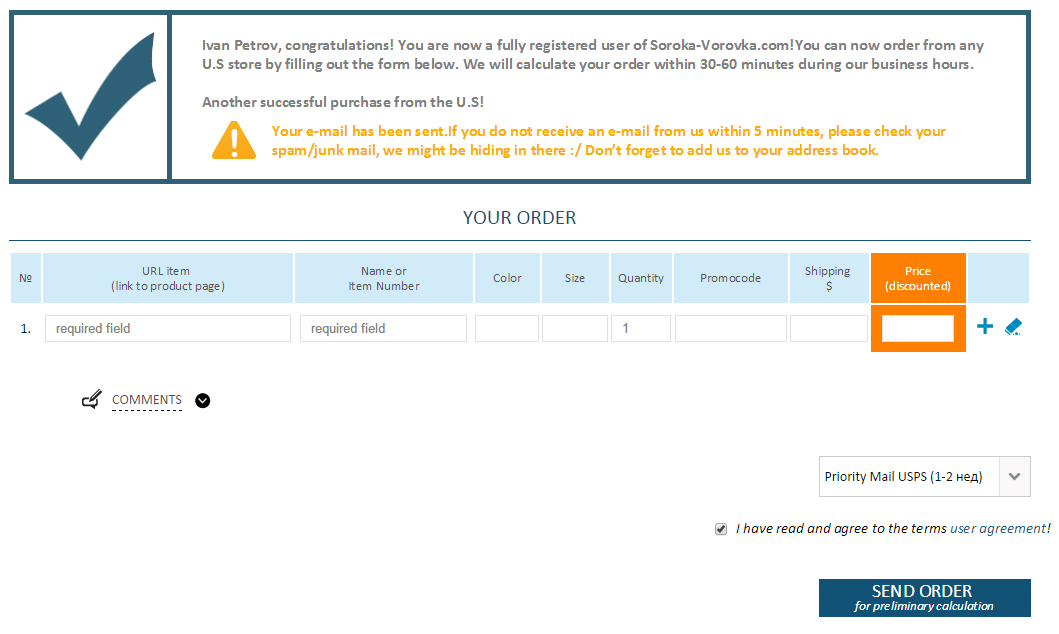 You can also register on our website as you are adding items to your cart. In this case, you should start using the service by clicking on "Add to cart", then you will be asked to enter your personal information, then you fill your cart, forward your order to an operator, and in the end enter your new password. This way, your registration will be completed simultaneously with placing your order.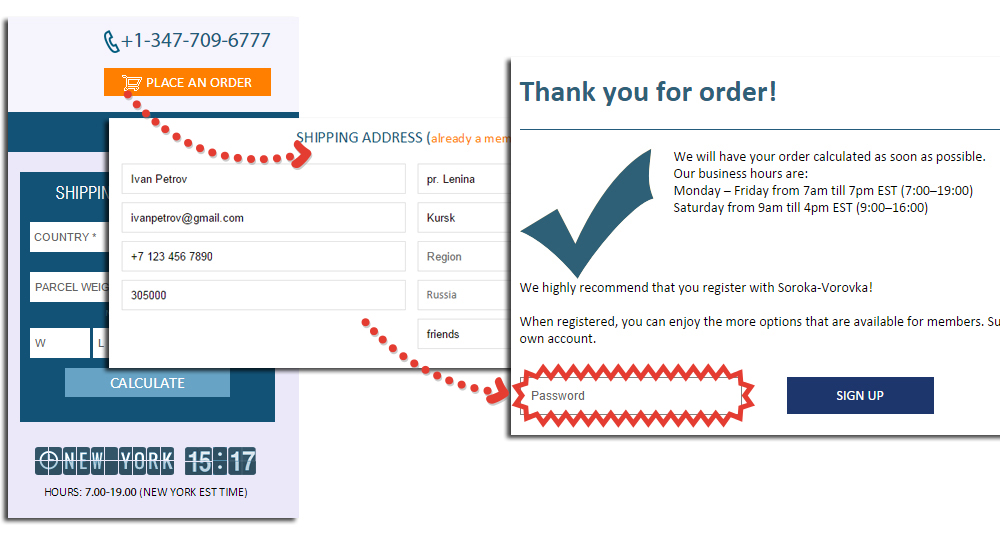 In order to log in to your account, please enter your email address and your password. If you forgot your password – use the function or restoring a password.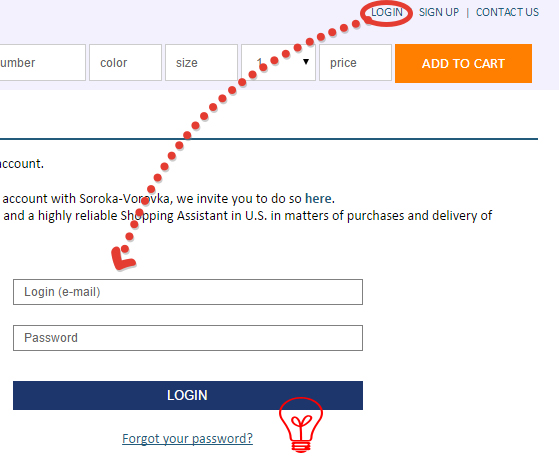 Steps you need to take when ordering your goods from online stores in the USA via Soroka-Vorovka and shipping them to your country:
Find products in online stores and online auctions in the USA (see tips

here

);
Add your items to your Cart (need help - here are the

instructions

);
Form your order and send it to our service operator, if necessary - edit your order (

instructions

);
Transfer to Soroka-Vorovka account the amount of your first payment to purchase your items (

instruction

);
Waiting for your order to be delivered to S-V warehouse, to be packed and prepared for international shipping (how it happens – you can read

here

);
Transfer to Soroka-Vorovka account a second amount for the shipping of your order (how it is calculated –

here

);
Wait for your package to arrive (delivery times depend on delivery methods) by tracking its movement using a provided tracking number;
Receive your package from the United States and notify Soroka-Vorovka about its receipt.

What steps Soroka-Vorovka takes when fulfilling your order:
Calculates the cost of your purchases accounting for any applicable discounts and shipping within the USA;
Checks an online store or a seller at an auction for credibility;
Purchases goods on your behalf according to your order (if there are available funds in your account);
Receives your items at the warehouse and stores them until you do not give an order to pack them for shipping;
Checks your items for availability, quality and description in accordance with your invoice;
Packs all your purchases in one package, and, if necessary, removes excess packaging;
Calculates your international shipping costs and sends you a shipping invoice;
Sends your package using your selected shipping method, or offers you a better one.

The commission for our services: starting at 4%, at least $7, and on average 6-10% of the order price (depending on complexity of your order).